Priority Deadline for short-term programs is September 1st, 2013. Programs may fill by this date and be closed.
THE PROGRAM
A great opportunity to visit and travel in India and understand the culture from a developing country perspective. During, students will observe and study the information environment in those organizations and information management practices. Students will discuss with professionals in those organizations the business models and information management issues.
In addition to professional visits to software companies and academic/research institutions in the cities of Bangalore and Mysore, many sight seeing places (like famous Mysore Palace and 12th century temples known for architecture) will be visited.


THE LOCATION
Students will study the information management practices in corporations and academic/research institutions in the cities of Bangalore and Mysore, India.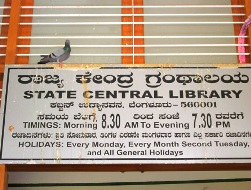 THE HIGHLIGHTS
Highlights include:
Learn outsourcing activities by visiting leading consulting firms like Tata, Infosys, HCL, Happiest minds Technologies, etc.
Guest lectures on innovation and leadership by the leading authorities in India
Interact with local people and understand the importance of tacit knowledge
Visit NGOs and understand their work in development
THE ACCOMMODATIONS
At Bangalore, India we will be staying at XIME--a business school. Executive accommodations will be provided with well furnished rooms with attached bath rooms. WI-FI is also available as well as other facilities: transportation, laundry, and requested meals.

At Mysore, we will be staying at Infosys--one of the leading consulting firms in the world--and all facilities listed under XIME are also available here.
HOW TO APPLY
To apply, verify the minimal course requirements, then click the 'apply now' button at the top of the page.
ADDITIONAL RESOURCES
Get a taste of the program through the eyes of previous students in this blog about their incredible experience!
THE COURSE
Education Abroad will enroll committed students in the following course for three (3) credits from the University of Maryland:
INST 729: International Opportunities in Information Studies
Ten days prior to departure, students will prepare a three-page paper that should include a summary of findings from the literature search and review of provided websites. It should also include the area of interest that the student intends to pursue during the field study. While doing field work in India, students are expected to keep a daily journal documenting their impressions and experiences, as well as the learning outcome, at each site visited. Upon return to the United States, students will write a comprehensive report on the entire outcome of their field study in India.


The Requirements
Applicants must be in good academic standing. Please refer to the Fact Sheet area at the top of this page for information on other basic eligibility requirements for this program. This course is for any graduate student interested in understanding information management practices in developing countries.

THE PROGRAM DIRECTOR
Program Director: Taverekere (Kanti) Srikantaiah, is a Visiting Professor at the iSchool, University of Maryland. He served as Director and Professor, Center for Knowledge Management at Dominican University from September 1997 through August 2010. Before joining Dominican, Kanti had a distinguished career at the World Bank where he headed varied and important assignments, in the areas of information management. His area of specialization includes Systems Analysis, Business Process Management, Organization of Information, Management of Information Repositories, Environmental Scanning, Information Audit, Project Management and Knowledge Management.

For course, itinerary or in-country information, please contact the Faculty Director. For general questions or assistance with applying, contact the appropriate Regional Advisor in Education Abroad.