THE PROGRAM
Join the Social Entrepreneur Corps (SEC) program in their mission to combat poverty across Latin America by supporting small community-based businesses. This unique eight week study and internship program will teach you to basic principles of social entrepreneurship through courses, case studies, discussions, and hands-on, practical experience. You will work side-by-side with SEC development professionals and local field based entrepreneurs to develop self-sustaining micro-consignment businesses in the Dominican Republic. You will have the opportunity to make a profound community impact while gaining an in-depth knowledge of rural economic development work.

This program is split into three distinct phases:
*You are required to participated in all three parts of the MSEC program*

1. On-Campus Pre-Departure Course
You will begin with a pre-departure course taught on the UMD campus Tuesday evenings from April 1 to May 13th by Professor Susan White, Smith Business School, and featured guest speaker and co-founder of SEC, Greg Van Kirk. The course will introduce you to the theory and practice of social entrepreneurship and its potential to transform communities. Through lectures, discussions and case studies, you will examine the varying models of social enterprise (with a particular emphasis on the MicroConsignment model) and how these models are applied in economic development work. In preparation for the in-country work with local entrepreneurs, you will also learn basic business principles and attend lectures on Latin American history, politics and culture. Students from both MSEC programs (Nicaragua/Dominican Republic) will be combined for this pre-departure course. View the Syallabus for this part of the program.
2. In-Country Program and Fieldwork
You will fly to Santo Domingo on June 23rd where you will begin the first 1-2 days of orientation at SEC headquarters. From there you will travel with SEC staff to the province of El Seibo, where you will spend two weeks in a homestay while you complete orientation, Spanish language training and a course to prepare you for the fieldwork segment of the program. You will split into teams of up to 12 students and travel with SEC staff to work on a variety of projects throughout rural areas the country. Examples of projects include: surveying local communities about life expectancy and health needs, creating promotional materials to draw attention to local artisans and products, designing educational campaigns to increase local awareness of the benefits of water purification and improved cook stoves, conducting promotional activities to assist women's cooperatives selling eyeglasses, and field testing new products and services. You will be accompanied by development professionals who will give you guidance in these projects. You will return to program headquarters for five days to reflect, decompress and visit host families before completing a second round of fieldwork focused on a specific project. At the end of the program, your team is given the opportunity to invest a pool of SEC funds in one or more projects that you encountered during your fieldwork. You will present your funding decisions to Social Entrepreneur Corps field personnel. View a more detailed breakdown of the in-country portion of this program.
3. Post-Program Symposium
All MSEC participants will present the results and impact of their eight week consulting work in a fall semester evening symposium open to the university community, parents, donors, and the Maryland entrepreneurial community. You will also follow-up with the Maryland entrepreneurs you worked with during the spring using the new insights gained through your summer fieldwork.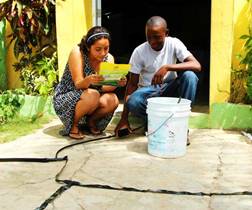 THE LOCATION
Social Entrepreneur Corps (SEC) program headquarters are located in Santo Domingo (DR). Field sites include communities in/near: Barahona, El Seibo, Hato Mayor, Monte Cristi/Dajabon, Los Guineos de Miches, and Vincentillo
THE ACCOMMODATIONS
Students will stay with local host families for most of the program. On some occasions, they may be provided accommodation in hotels or apartments while conducting fieldwork. View this video on homestays in the Dominican Republic.
ELIGIBILITY
You must be in good academic and judicial standing. Please refer to the Fact Sheet at the top of this page for specific eligibility requirements.

A high level of maturity and a willingness to live and work in a challenging developing country environment are required. You also must be enrolled as a UMD student for Fall 2014 (seniors graduating in May or August 2014 will not be considered). Previous experience in business (finance), international development and Spanish language helpful but not required
THE COSTS
Please refer to the program cost sheet for a specific breakdown of expenses.

THE HIGHLIGHTS
Opportunity to make a direct and measurable contribution to rural development work in Latin America
First hand experience with the challenges and opportunities inherent in creating successful social entrepreneurship models, implementation strategies and tactics
Chance to develop skills in applying business solutions to real world social issues
Homestay living with local families
Engagement in work that spans beyond the classroom and makes a positive social impact
THE COURSE
After you commit to the program, Education Abroad will enroll you in the following courses for a total of 9 UMD credits:

On-Campus Pre-Departure Course
BMGT 398: Individual Study - Social Entrepreneurship in Latin America (2 credits)
In-Country Program and Fieldwork
BMGT 398: Individual Study - Social Entrepreneurship Internship – (3 credits)
EDCP 386: Experiential Learning (3 credits)
Post-Program Symposium
BMGT 499: Advanced Business Topics - Maryland Social Entrepreneur Corps Symposium (1 credit)
THE PROGRAM DIRECTORS
Professor Susan White is a Distinguished Tyser Teaching Fellow in the Department of Finance, Robert H. Smith School of Business. She leads a UMD spring break course exploring entrepreneurship in Nicaragua and serves as the Faculty Director for the MSEC programs in Nicaragua and the Dominican Republic. Professor White is your primary point of contact for the academic portion of the program (including the pre-departure course and symposium.)
Greg Van Kirk is co-founder of the Social Entrepreneur Corps (SEC) and Community Enterprise Solutions and will serve as guest lecturer during the pre-departure course at UMD. A former investment banker and Peace Corps volunteer, Mr. Van Kirk is an Ashoka Lemelson Fellow and World Economic Forum/Schwab Foundation "Social Entrepreneur of the Year". His work in developing innovative responses to long-standing development challenges has been universally recognized for its groundbreaking methods and lasting impact.
Timothy Trusz is the SEC Country Director for Nicaragua and will oversee the in-country fieldwork portion of the program. After joining the Social Entrepreneur Corps for a summer in 2007, Tim began to work full time for the organization and in 2010 became the country director for Nicaragua, where he works with community organizations and entrepreneurs in creating access to essential products, services, information and technologies through rural areas of the country. Tim received a B.A. in International Development from Clark University in 2006.
For program information and questions, contact the appropriate Regional Advisor in Education Abroad. To speak with a Student Ambassador about the MSEC Program, contact Naya Frazier.