THE PROGRAM
Through this course, you will be introduced to the Kayapó, one of the indigenous peoples of Amazonia, as well as tropical forest ecology and the urbanization and development of Amazonia.

THE LOCATION
You will convene with your classmates and program director in Pará in Marabá to begin the program and then proceed to the frontier town of Tucumã, Pará.

THE ACCOMMODATIONS
You will live in tents at the research station in the rainforest on the edge of a Kayapó village in Aukre. In Marabá, you will stay in a hotel. Meals will be provided, but otherwise you should expect sleeping, showering and bathroom facilities comparable to those found in any wilderness camping experience.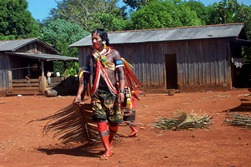 ELIGIBILITY
You must be in good academic and judicial standing. Please refer to the Fact Sheet at the top of this page for specific eligibility requirements.

THE COSTS
Please refer to the program cost sheet for a specific breakdown of expenses.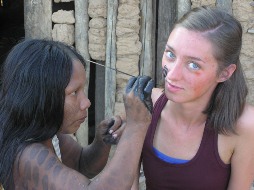 THE HIGHLIGHTS
Coursework and time spent at Pinkaiti Research Station
Living and working in the village of Aukre learning about Kayapó culture and daily life
THE COURSE
After you commit to the program, Education Abroad will enroll you in two of the following UMD courses for a total of six (6) credits:
ANTH238B or AMST 269B Lived Existence: Perspective in Native American Identity
ANTH698C Advanced Field Training in Ethnology
ANTH498C Ethnographic Fieldwork
LASC 448F & LASC448G Brazilian Ethnography & Environmental Conservation and Indegenous Peoples
THE PROGRAM DIRECTOR
Matthew Aruch is currently the Assistant Director of the Science Technology and Society Program and PhD student in International Education Policy at UMD. Matthew did his undergraduate work in Biology at Mary Washington College (MWC) and has graduate degrees in Education from MWC (MS 2004) and Harvard University (MEd. 2011). Matthew spent several years teaching in Costa Rica, Honduras and the United States. He has been collaborating, work and teaching with the University of Cuenca and the communities of Shiña since the summer of 2012.

For course, itinerary or in-country information, please contact the Program Director. For general questions or assistance with applying, contact the appropriate Regional Advisor in Education Abroad.