THE PROGRAM
This expedition-style course is designed to introduce students to adventure recreation opportunities in Norway. While participating in activities such as backpacking, sea kayaking, and camping, students will be challenged to use these activities as opportunities for inter- and intra-personal growth (i.e. leadership). The course will consist of pre-trip classroom sessions, international travel and activities in Norway and a post-trip debrief session and assignment.

THE LOCATION
The course will travel throughout Norway with stops in Bergen, Voss, Sogndal, Lom, and Oslo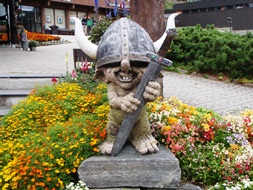 THE HIGHLIGHTS
Highlights include:
5-day backpack expedition in Jotenheim National Park
4-day sea kayak expedition through Norway's fjords
Camping and cabin stays throughout the expeditions
Final dinner and celebration in the city of Bergen
THE ACCOMMODATIONS
In cities, we will stay in hostels. While backpacking and kayaking we will either camp in tents or stay in mountain cabins. Most cabins will have electricity but no wireless, laundry or basic amenities.
HOW TO APPLY
To apply, verify the minimal course requirements, then click the 'apply now' button at the top of the page.
THE COURSE
Education Abroad will enroll committed students in the following course for three (3) credits from the University of Maryland:
EDCP 318X: Applied Contextual Leadership: Norway: Adventure Leadership

Prior to departure, students will be required to attend pre-departure meetings, do readings, and write a short paper.


The Requirements
Applicants must be in good academic standing. Please refer to the Fact Sheet area at the top of this page for information on other basic eligibility requirements for this program.

THE PROGRAM DIRECTOR
Program Directors: Mike Doyle is the program director for the Maryland Adventure Program (MAP). He has taught leadership courses through the School of Education and is an organizational effectiveness consultant for various adventure-based learning companies. Mike has taught the Norway course since 2010 and has also led trips throughout the US as well as Fiji and Jordan. He is an avid backpacker and kayaker and has certifications in Coastal Kayak Instruction and Wilderness First Responder. Mike has a Masters degree in College Student Personnel from the University of Maryland.

For course, itinerary or in-country information, please contact the Program Director. For general questions or assistance with applying, contact the appropriate Regional Advisor in Education Abroad.