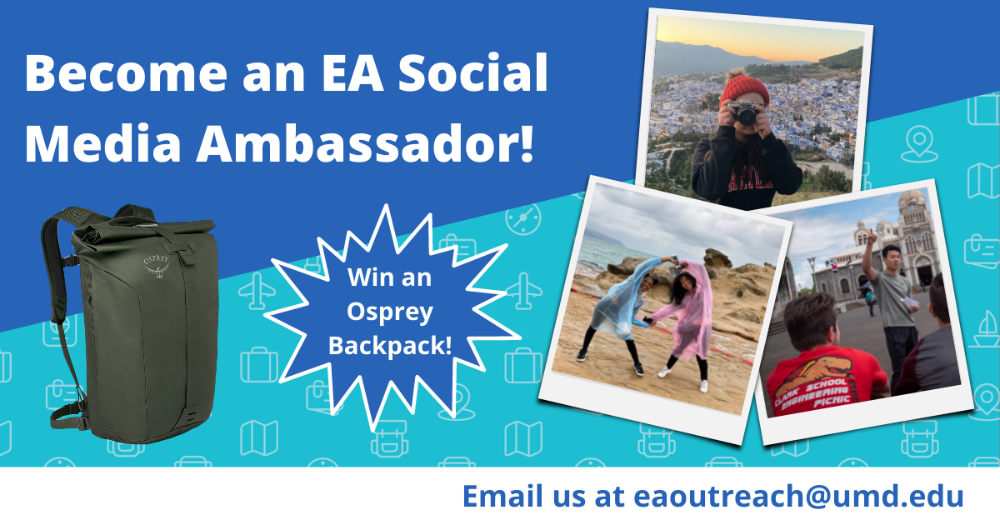 Calling all #TerpsAbroad! Consider being an EA Social Media Ambassador!

Each year nearly 2,000 students study abroad and proudly represent the University of Maryland around the world. Our students travel to new countries, explore historical sites, volunteer in their host communities, intern for a global organization, further their studies with innovative courses at international universities, and so much more. We are looking to share the #TerpsAbroad experience with our community and we need you to share your study abroad story.

Are you participating in an upcoming study abroad program? Consider being an EA Social Media Ambassador!

As a Social Media Ambassador, you will provide the Education Abroad office with content that will be shared on our social media accounts. Your experience is an invaluable resource that makes you a strong representative of what it's like to participate in your program. You are best able to speak about and showcase living in your host country, how to navigate language/culture, and what extracurricular activities to pursue, among many, many other topics.

All students who are studying abroad for Summer or Fall 2022 are encouraged to sign up and we aim to accommodate as many as possible. To sign up, please complete the sign up form.

The goal of this Ambassadorship is to create a reliable source for fun and relevant content that will help increase EA engagement with students through captivating social media posts and campaigns. The program also serves as a way to reframe your experience and develop some professional skills about articulating or showcasing your time abroad in a meaningful way. We hope you see this as a unique and worthwhile opportunity!

In addition to professional development, ONE ambassador with the most points at the end of the fall semester will also receive a Grand Prize – A weather-proof Osprey backpack. There will also be staff-pick winners selected by EA who will receive other prizes.

How to earn points and win?
Sending us photos and/or videos

Doing an Instagram Takeover

Completing a

#TerpsAbroad profile

Sharing our posts to your social media pages

Tagging our account in your photos or videos

Using the #TerpsAbroad hashtag

Following our social media accounts

Participating in our various online campaigns
Your ambassadorship starts as soon as you accept the role. Please sign up if you would like to be a Social Media Ambassador!