Maryland-in-Barcelona Housing Options Overview
As a large, diverse and cosmopolitan city, Barcelona has much to offer you as future residents! Your experience during the Maryland-in-Barcelona program will greatly depend upon your choice of housing. Therefore, it is important that you consider your housing selection carefully. What type of neighborhood do you want? Who will your neighbors be? How will you maximize your opportunities to get to know people and students from Barcelona and Spain? What is your budget for housing? What are the terms and conditions of your housing? Most importantly, it will be helpful to think about the goals that you have set for yourself and how your choice of housing will help you to attain those goals.

Check out the Maryland-in-Barcelona Google Map to get an idea of where everything is located on our program including some examples of locations students have been previously housed in (NOTE: locations of housing vary by term and availability). All costs and availability subject to change.
Housing Assignments
Before leaving for Barcelona, you will share a preference for one of the following housing options:
Maryland-in-Barcelona students will have the opportunity to live alongside American, Spanish, and other international students in one of the local residencias though our housing partner. Similar to residence hall-style buildings, the residencias are made up of fully furnished single and double rooms that have a mini-fridge and microwave with a number of common spaces throughout the building. The common spaces include a study room, comedor (dining room with microwave for heating drinks only, coffee maker, toaster) and a laundry room (laundry service is available for a fee). Bathrooms are typically shared with other residents on the floor. Students will also have access to a shared kitchen area where they can prepare meals. Food storage space in the shared kitchen may be very limited or not available. Some students may find they eat a meal outside their accommodation practically every day. Students selecting the residencia option should be aware of the building policies.

Residencia Housing Fee
The cost for residencia accommodations vary from semester to semester. Final cost can be confirmed by the Education Abroad Advisor once housing assignments are completed. The housing fee includes wireless internet connection, mini fridge in room, TV with satellite, daily bedroom cleaning and linen exchange (sheets, blanket, and pillow provided). 24 hour security and staff member lives on-site. For a residencia, the approximate cost for Spring 2023 is $5200.
Additional information about Residencias:
​
Residents are international students, as well as Spanish or Catalan students, who could be there for a short amount of time to a longer amount of time. Approximately 70 percent of students are longer-term students.
Ideally suitable for: students wanting to mix with local students in the residence and improve their Spanish language skills, wishing to live in a busy neighborhood close to amenities, who don't mind sharing toilets and showers, and willing to eat out at least once per day on most days.
Engaging with Spanish Culture while living in a Residencia
Living in the residencia is an excellent opportunity to meet and develop relationships with both Spanish and international students. Students will use common areas as a place to meet and spend time together. Often, each floor of apartments includes residents from Spain and other countries, offering UMD students the opportunity to practice Spanish and Catalan. While a great place to meet other students, the residencias should not be considered a primary place to socialize. Many students who live in residencias will spend most of their time socializing out in the city instead of hosting friends in their rooms.
All costs and availability subject to change.
---
Students also have the option to live with other UMD students and possibly students from the Resident Director, Ryan Lorenz's, other study abroad programs in pisos (apartments/flats) which are located throughout Barcelona. All are centrally located and within a short commute from the university campuses. Pisos can be anywhere from 3-8 people in the whole apartment but tend to be in the 4-6 person range. Some pisos may have very modern furniture in modern buildings while others may be quite old-fashioned. In either case, the furniture and the apartment that you live in will be in good condition. You will be held financially responsible for any damage that occurs to any item within your apartment (including broken dishes). All flats include a complete kitchen, allowing you to prepare your own meals.

On this program, we offer two different apartment types:

1. Standard Pisos: The standard pisos match the description above and have different prices for single and double rooms. Spaces in the standard apartments will be very limited for Spring 2024 due to lack of availability and spaces for single bedrooms will be limited. For standard pisos/apartments, the estimated cost for Spring 2024 is approximately $3000 (subject to changed and current estimate does not denote single versus double bedroom pricing).

Sample photos of standard pisos below: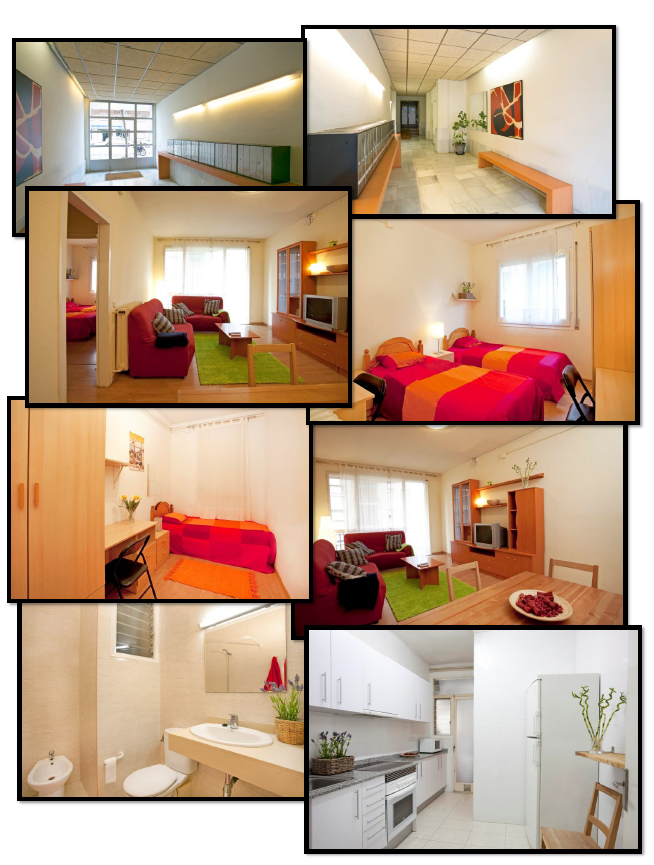 2. Upgraded Pisos: In addition to the amenities described above, upgraded pisos are a bit more modern, have air conditioning, and higher-speed wifi. Pricing is standardized for all room types in upgraded pisos. A single or double in an upgraded apartment will be the same price. Most students can expect to be placed in a double bedroom. For upgraded pisos/apartments in Spring 2024, the estimated range of costs is approximately $4,206-5,148.

Sample photos of upgraded pisos below: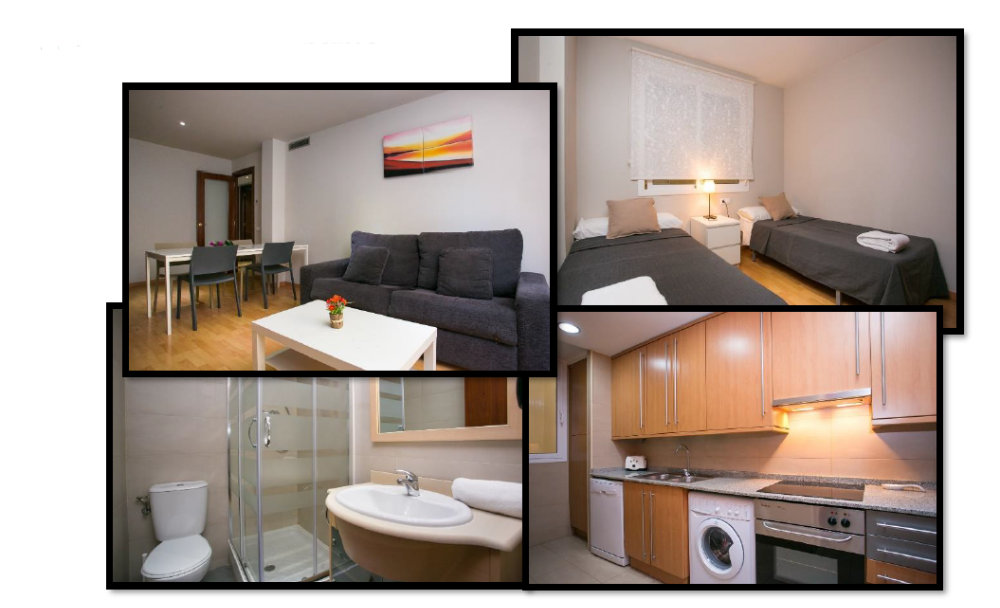 Students wishing to live with Spaniards should consider the homestay option for a greater level of immersion.
Housing Fee for Pisos (Apartments):
The housing fee for pisos varies based on specific assignment. Assignments will be made on a first-come, first-serve basis according to the submission of the Housing Preference Form. Final cost can be confirmed by the Education Abroad Advisor, once housing assignments are completed. The housing fee for apartments includes: all utilities, internet access, access to on-site laundry machines, and linens and towels. For standard pisos/apartments, the
estimated
cost for Spring 2024 is approximately $3120. For upgraded pisos/apartments, the
estimated
cost is approximately $4,206-5,148.
All costs and availability subject to change.
Engaging with Spanish Culture while living in a Piso
Living in an apartment can provide an opportunity for daily interaction with Spanish people within the building, but students will not have local Spaniards in their individual apartments. You will frequent the same markets and stores, developing a rapport with the store owners and people in your neighborhood. It will take effort on your part to make friends with the other tenants in your apartment building. However, it can be done. You will, of course, need to respect the fact that you will be living in a communal living arrangement. Spanish apartments can be in older buildings with hardwood floors, noisy plumbing etc. Students should be conscious of their noise level as not to disturb their neighbors and possibly jeopardize future students from living in the building. Students choosing to live in an apartment must make the extra commitment to continue to use their Spanish and Catalan language skills even though they are housed with other American students. Students who choose to live with other Americans in an apartment will also need to take the extra initiative needed to make friends with Spanish students.
What students say: Some past students have said they felt living in pisos offered a more independent feeling than living in student residences. On the other hand they had to be quiet and very respectful of neighbors as these pisos are mixed in buildings with ordinary local families who expect QUIET at night.
---
For students with higher level Spanish skills (intermediate/200-level), living with a family is a great way to immerse yourself in the host culture. Your family will be your primary exposure to Barcelona, its cultural values, and some very representative customs and traditions. You may be exposed to a house full of people who come and go, although in some cases you may find that the host mother lives alone in the house. Extended families in Spain are very close-knit.
Many families have hosted international students before, so they are experienced and know what to expect from hosting a student in their home. Although families receive financial remuneration for hosting you, this does not mean they live solely from this income - by no means are you supporting the family financially. This does not allow you to treat your home like a hotel either. Living in a local home, regardless of the amount you pay, requires you to respect and comply with their rules and regulations.
Your family receives a monthly fixed amount of money, which covers your room and two meals per day, Monday through Friday. The type of food you will be served is the same food prepared for other family members and will be enough to satisfy an adult. Should you choose to follow a specific diet and require different types of food (in quality or quantity), you may be charged additionally for this. Furthermore, the family might choose not to accommodate your requests, in which case you will be asked to move to a different host family.
Housing Fee for Homestay:
Final costs can be provided by the Education Abroad Advisor once housing assignments are completed. For a homestay, the
approximate
cost for Spring 2024 is $4400.
In general, your host family will:
provide you with a comfortable single room with a bed, closet, desk, window and access to a bathroom
provide you with two meals per day, Monday through Friday
integrate you in the family's activities
treat you as a member of the family, give you support, and assist you during your first days in Spain
not expect you to clean the rest of the house, run errands, baby-sit or teach English, although they will expect you to clean your room and keep the bathroom(s) tidy.
speak with you in Spanish at all times.
serve as the primary emergency contact and notify the Barcelona team immediately, should you have an emergency.
contact the Barcelona team directly in case they need clarification in terms of financial arrangements or other concerns.
Laundry
Your host mother is not expected to do your laundry. You need to establish one day a week when you can do your own laundry at home. You are expected to purchase your own laundry detergent and care for your own clothes. Note that due to the high cost of electricity, it's most common to hang clothes to dry, not to use a dryer. You may find that many (if not most) homes are not equipped with dryers!
Telephone Usage
Local telephone calls are not free. You will have access to use the phone to receive calls. For international calls you MUST use your calling card or arrange for a time and a date for your family and friends to call you. You may be able to make a local phone call but please ask first and be sensitive to the cost this may incur for your host family.
The best solution is to get a mobile phone or mobile phone plan and use Internet-based services such as Facetime or WhatsApp.
Meals
Most Spanish families eat three meals per day. Breakfast and dinner are rather light. Lunch is the heaviest meal of the day; yet our modern lifestyle means this meal is often taken outside of the home. Meals are generally served with the following schedule: breakfast from 7:00 am to 9:00 am, lunch around 2:00 pm to 3:00 pm, and dinner around 9:00 pm or 10:00 pm (and it is rather a light snack more than an actual meal).
Although it is increasingly changing, the
señora
spends a lot of time preparing the food that you will consume. To avoid hurt feelings, tell your family what you don't eat or are allergic to. Also, if you do not plan to be present at a meal, common courtesy requires that you let your family know in advance. If you choose to skip a meal, do not expect the family to serve you at your convenience; as a guest in the house, you must comply with the established meal schedule.
All costs and availability subject to change.​
---
Additional important information about ALL Maryland housing options:
Assignments:

Housing placements will be made in the order that Housing Preferences were submitted. We do our best to accommodate student preferences, however we cannot guarantee any particular assignment. Please take time to review your housing preferences CAREFULLY before submitting the form. Later changes may impact your order.

Billing:

All students who choose Maryland housing will be billed on their Testudo account for housing shortly after prices have been finalized and assignments shared. All costs and availability subject to change and any updates will be shared by the EA advisor. The amount billed will correspond with their specific housing assignment, however the billed amount will align with the fee ranges shared, but will vary slightly due to finalized price conversions. In the event that a student causes damage to their accommodations, a fee will be charged to the student's Testudo account for repairs.
Students must be mindful of their utilities usage (app. 45 euros per student per month included with ). If students go over their allotted utilities usages, they will be charged the difference after the program. Bills for utilities may be received months after the program has ended. Students receive reminders if their usage is approaching the allotted usage amounts.

Commuting:

Barcelona has an extensive public transportation network that many locals use to navigate the city. All housing placements will be public transportation accessible, allowing students to commute from their accommodations to class. A typical commute in Barcelona by public transportation is about 30 – 50 minutes, so our students should expect a similar commute to and from class.
---
Students participating in the Maryland-in-Barcelona program can choose to opt out of using UMD's housing services and seek their own housing accommodations. This is not the case for all Maryland administered programs. UMD takes no responsibility or liability for students choosing to pursue independent housing.