Maryland-in-London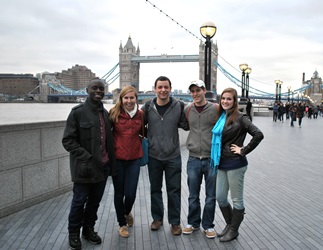 Join us February 17th for an Internship Information Session at the Career Center!
One of the most culturally rich and diverse cities in the world, London serves as the setting for an experience that could become the most exciting and rewarding opportunity of your undergraduate career. Maryland-in-London has been running since 1980 and is the oldest of all the university's study abroad opportunities.
The Maryland-in-London program is a catalyst for personal and academic growth, and can lay important foundations for your future career plans. Living in a foreign country increases awareness of another culture while providing a comparative international perspective. Research has shown that prospects for graduate school and employment are enhanced for students who can articulate the value and benefits of their experience abroad. London not only offers classroom experience, but internships (work placement) for academic credit.
Academics
For a detailed summary of the academic structure of the program and options available to students please consult the Academic Overview and Possible Course Offerings.
Maryland-in-London (MIL) has three components to the academic program: a) courses taught by adjunct London-based faculty who teach only Maryland participants, b) courses taught at our partner institution, London Metropolitan University, where students are integrated into the British education system, and c) academic work placements. A number of courses fulfill major, minor, Honors and General Education requirements, thereby ensuring that your time in the UK keeps you on track for graduation. Students can participate for a semester (fall/spring) or an entire academic year.
Maryland courses make maximum use of the city as a classroom through field trips, guest lectures, visits to museums and galleries, historical walks, and attendance of theatre productions. Subject areas include English Literature, History, Theatre, Anthropology, Economics, Government, and Art. All classes incorporate analysis and reflection that tie coursework to the artistic, political, economic and scientific heritage of Britain and the world beyond.
There are two different options for course selection. Students may register for only academic courses, or students may combine coursework with internships (academic work placement). All students register for Maryland classes. Those not participating in an internship can also take up to two London Metropolitan University classes.
Internships
(Academic Work Placement)

For detailed information how work placement operates and placement options, consult the Work Placement Overview.
Take a step beyond the classroom to engage with the British working environment and gain invaluable cultural experience. Participation in an unpaid internship for academic credit (called a work placement in the UK) provides students with the chance to develop skills and competencies that are transferrable, cross-cultural and potentially industry-specific. London, an important center of business, arts, media and politics, is the perfect place to benefit from this unique international opportunity.

The work placement takes place in conjunction with an international internship course (IIC). This essential component allows students to reflect upon and analyze their intercultural experiences, and to connect academic theories to real-life situations.

The Foundation for International Education (FIE) coordinates the on-site logistics, manages the process of securing the placements, and runs the IIC.
Activities
Integral to study abroad is learning about yourself, your own culture and your host country. Foundations are laid in your classes, but education goes well beyond the classroom. The program arranges and administers a number of opportunities that augment your academic commitments, and they are intended to facilitate your immersion, enjoyment and understanding of Britain and its people.
All students have access to unions at International Students House and University College London, where clubs, societies, karaoke evenings, debates, gyms, travel clubs, and much more are on offer. Regular participation in events and activities is a good way to meet students at other British universities and be more connected to your host country.
Students can sign up for an optional weekend stay with a family outside of London, and past students have gone as far afield as Leicester, Northern Ireland and Dorset, where they have visited historic sites, played Scrabble, drunk lots of tea, enjoyed home cooked meals and had long conversations with British families. The program also offers students the chance to sign up for a subsidized weekend excursion to locations outside London; past excursions have included Bath, Stonehenge, Oxford, Gloucester, or horse riding in Wales. These excursions are highly rated by students and are a valuable aspect of the program because they introduce students to the regional differences within the United Kingdom, and they augment, enhance and inform the material covered in courses.
Housing
Housing is an important aspect of time abroad, and the program gives three options so students can decide which suits them best:
If you are interested in living with someone from another country and meeting international students on a regular basis, a limited number of spaces are available in International Students House (ISH). ISH participants share a twin room with a student who is not on the Maryland program (photos).
If you prefer apartment living and want to live with other Maryland-in-London participants, pre-arranged flats are provided by a housing agent. Typically four students live in a two-bedroom apartment (photos).
If your priority is independence, you can identify and arrange your own housing without using one of the university's partners.
Contacts
Please contact Deborah Lake with any questions related to application, admissions, logistics, academics, finances, housing, and engagement opportunities.

To learn more about the program and complete the required advising meeting, sign up for a London 101 session.
Dr. Laurie Koehler, Resident Director, handles registration, monitors and ensures the smooth running of the academic program including the work placement, and is available to assist students with any issues of concern on-site.
Dr. Amanda Milburn, Assistant to the Resident Director, is responsible for the on-site coordination of the Connecting across Cultures class and most non-academic logistical aspects of the programme including health care, accommodation, and excursions. She is also available to assist students with issues of concern on-site.
More information
For a more detailed summary of the program, including policies, procedures and logistics, view the London Handbook.
A London alumna's blog post about her experiences on the Maryland-in-London program covers her classes and academics, her work placement, and her leisure pursuits. This is what your study abroad could be like!
A small collection of photos from around town.
The Costs


View the cost sheet for the appropriate term: