Program Overview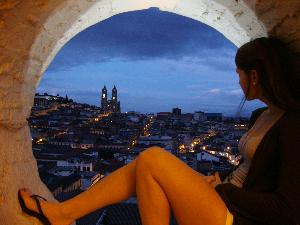 With a population of nearly 1.8 million people, Quito is a vibrant and modern city that is famous for its beautiful colonial Spanish architecture. It is also the capital of Ecuador—one of the most biologically varied countries in the world. Come to Quito and immerse yourself in the local language and culture as you focus your studies on Ecuador's ecological and ethnic diversity and the challenges of development.
If you're interested in improving your Spanish language skills, this program offers you the opportunity to rapidly improve your Spanish through a rigorous language course taught by IES Abroad. You select the remainder of your courses from options available at IES Abroad and prestigious local universities.
Visit www.IESabroad.org for complete program details.
NOTE: Program dates listed in Studio Abroad are approximate. Please refer to IES Abroad predeparture materials for planning travel.
Why Quito?
Sit back, relax, and dream about the adventures that await you in Ecuador. First, imagine exploring Quito's vibrant neighborhoods and admiring the beautiful colonial Spanish architecture that makes the city a UNESCO World Heritage Site. Next, picture yourself studying the ecological diversity of the Galápagos Islands, standing on the equator in Mitad del Mundo, and hiking the mountain rainforest in Loja Province. Pack your bags now--South America awaits you.
Student Life
Whether it's an orientation program that makes you feel prepared, housing that is well-located and comfortable, or the field trips that take you to places off the beaten path—we're all about our student services. To find out more specific details, click here and select the Student Life tab.
About IES Abroad
Everything we do is about the IES Abroad student. Our profoundly passionate team of study abroad professionals believes in creating once-in-a-lifetime educational adventures that transcend expectations. Our goal is to rock the world of some 6,500 study abroad students every year. From our headquarters in Chicago to our 140 study abroad programs in more than 34 global locations worldwide, we create authentic global education and life-affirming cultural experiences.
Discover more about what we offer with all of our programs.
More Information:
www.IESabroad.org
Request a Catalog
Email an Advisor
Contact a Past Participant
Call us at 800.995.2300






UMD partners with IES to offer
affiliate program
options to UMD students across the globe. You will maintain your UMD student status while abroad and you will work directly with IES program staff as a participant on their program. Your EA advisor will assist you with this process and can answer questions you may have.
Academics on an IES program
All IES courses are considered for
transfer credit
. However, UMD cannot yet approve transfer credit for IES' field studies, internships or experiential learning courses. Study tours and classes offered on a pass/fail basis are not transferable.
Transcript from an IES program
UMD will require the IES School of Record transcript from the University of Rochester in order to apply your study abroad credits to your UMD degree. The fee for the University of Rochester school of record transcript is $375 and paid to IES directly. This should be sent to UMD Education Abroad at the end of your semester abroad. IES will provide instructions and deadlines for submitting your School of Record Request.
Costs & Billing for an IES program
The
affiliate program costs
apply to this program. All fees are billed to your UMD student account unless otherwise noted. UMD students studying on IES fall or spring programs will get a
$2,000 discount
off of the published IES program fee through the Public University Grant.
Please note that students on IES programs are exempt from paying the UMD mandatory health insurance as a comprehensive insurance policy is included in the IES program fee. You will also need to pay the $375 school of record fee directly to IES. More details about the specific fees for this program are available on the IES program page.
Once accepted to your IES program, you will pay a $500 deposit to IES directly. The remaining IES program fees will be charged to your UMD student account. You will be able to use any financial aid you have from UMD towards these charges.
Scholarships for this program are available through the
UMD Education Abroad Fund
and
IES Scholarship Funds
including the
Diversity Scholarship
,
Disability Scholarship
and
need-based awards
. Pell Grant recipients should also apply for the
Early Aid Program
to get a financial aid decision before you have even been accepted to your program!